Grand Luxxe Nuevo Vallarta – Experience the Sublime
*This post may have affiliate links, which means I may receive commissions if you choose to purchase through links I provide (at no extra cost to you).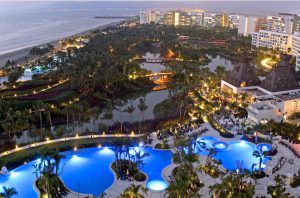 If you're considering a trip to Puerto Vallarta, Mexico, the first thing you'll probably think about is "Where Do I Want to Stay?"  And there are hundreds of options.  The decision is difficult because that's the wrong first question.  Your first question should be,
"What Type of Experience Do I Want In Mexico?"
Where you stay will determine much about the type of experience you have in Mexico (and anywhere, really).  So give some thought first to what it is you want to do when you're there.  Are you looking for adventure?  Relaxation?  Exploring new culture?  Unwinding?  Escape from the cold?  Talk it over with your family and see what they're looking for as well.  The answers will guide you much more clearly toward the type of location you want to choose.
Check Out the Grand Luxxe in Nuevo Vallarta
We've traveled to Mexico many times.  We usually stay in Puerto Vallarta for 2 to 3 months each year, so we are very familiar with the area and all it has to offer.  For this reason, we recommend The Grand Luxxe in Nuevo Vallarta, particularly for new travelers.
The Grand Luxxe is part of the Vidanta group of resorts, which include The Sea Garden, the Mayan Palace, The Grand Mayan, The Grand Luxxe and the Residences at Grand Luxxe.  We've stayed at all the various levels numerous times.  The Grand Luxxe offers a great location that is very safe, beautiful grounds to explore, huge pools, miles of beach along the fabulous Banderas Bay, and a large resort with staff that can meet all of your needs.
Where is "Nuevo Vallarta?"
Nuevo Vallarta is just a few miles north of the city of Puerto Vallarta.  It's a relatively new community created to serve the thousands of visitors that flock to Banderas Bay each year.  Along the edge of the bay are dozens of resorts, and the Grand Luxxe is the closest to Puerto Vallarta.
The Grand Luxxe makes a perfect introduction to Mexico and Puerto Vallarta by providing all of the things most people are looking for, while avoiding some of the trickier parts of travel.  For adventurers, the Grand Luxxe is located next door to the Paradise Village Marina, where you can find fishing expeditions, whale watching excursions, jet ski rentals, sailing and yacht rentals and just about anything to do with water sports.  You'll also find the Vallarta Adventures office, from which you can embark on zip line tours, trips to San Sebastian to see the old mining town, trips to Mismaloya, snorkeling and diving and dozens of other adventures.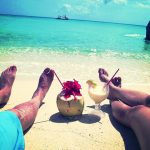 For those looking to relax and unwind, the Grand Luxxe makes it very easy to unplug from all those worries and cares.  We often spend days poolside or at a palapa on the beach, where waiters deliver those famous tropical drinks and you can Instagram your toes to all your jealous friends.
And if you want to get into Old Town to see the sites there, it's easy to catch a taxi at the Transportation Center for the 20-minute ride into the Zona Romantica to see the old Cathedral, shop for souvenirs along the Cuale River walk, stroll the Malecon, do some bar-hopping, or dine at some of the fine restaurants in the area (though the restaurants on the Luxxe grounds offer a large variety of options as well.)
Amazing, Spacious Rooms
The accommodations at the Grand Luxxe are simply unparalleled by anything else you'll find in the area.  We usually get a two-bedroom Grand Luxxe Villa, which sleeps about 6 or so, with kids on the big couches in the living room and others in the sitting room in the lock-off part.  The villa is over 3,000 square feet, with a huge main deck and smaller balconies off the other bedrooms, so you won't be tripping over each other during your stay, even with a full house.  The kitchen is well-stocked with pots, pans, utensils, plates and glassware, and has a cooktop and large refrigerator, coffee pot, blender and microwave.  The bedrooms each have their own large bathroom, with a jetted tub and king-size comfy bed.
And Then the Golf . . .
Besides the pools, beach, locale and accommodations, the Grand Luxxe is known for golf.  There are two incredible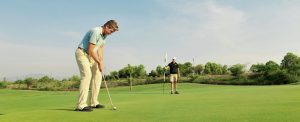 courses, a Jack Nicklaus and a Greg Norman, as well as a 9-hole par 3 night golf course.  If you choose to book a stay, be sure to check on whether the reservation includes both courses, because some only include the Nicklaus.  There may be a small fee per round – it was $35 last time we were there.  Which, for these courses, was well-worth it.
The Grand Luxxe at Nuevo Vallarta is an excellent choice for your stay in Mexico, regardless of what you hope to get out of your trip.  Check out our listing on Redweek for MLK week in 2019, or send me an email at support@cowboyconcierge.biz and I can check on any other available weeks.  We are A++, Chairman level members with all the perks you can get.