Grand Luxxe Nuevo Vallarta – Experience the Sublime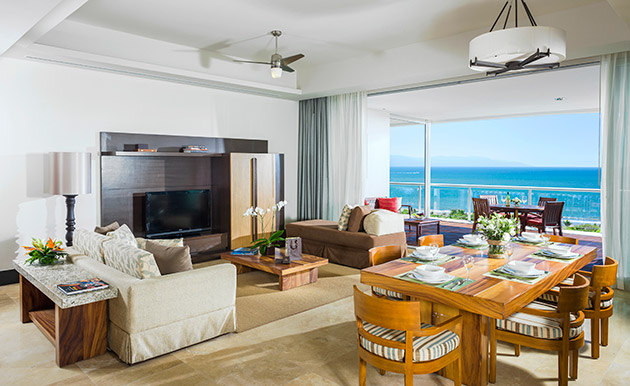 Grand Luxxe Nuevo Vallarta – If you're considering a trip to Puerto Vallarta, Mexico, the first thing you'll probably think about is "Where Do I Want to Stay?"  And there are hundreds of options.  The decision is difficult because that's the wrong first question.  Your first question should be,
"What Type of Experience Do I Want In Mexico?"
Where you stay will determine much about the type of experience you have in Mexico (and anywhere, really). So give some thought first to what it is you want to do when you're there. Are you looking for adventure? Relaxation? Exploring new culture? Unwinding? Escape from the cold? Talk it over with your family and see what they're looking for as well. The answers will guide you much more clearly toward the type of location you want to choose.
Check Out the Grand Luxxe Nuevo Vallarta
We've traveled to Mexico many times. We usually stay in Puerto Vallarta for 2 to 3 months each year, so we are very familiar with the area and all it has to offer. For this reason, we recommend The Grand Luxxe in Nuevo Vallarta, particularly for new travelers.
Concerned about COVID-19? Check out the intensive safety protocols implemented by Vidanta here.
The Grand Luxxe is part of the Vidanta group of resorts, which include The Sea Garden, the Mayan Palace, The Grand Mayan, The Grand Luxxe and the Residences at Grand Luxxe. We've stayed at all the various levels numerous times. The Grand Luxxe offers a great location that is very safe, beautiful grounds to explore, huge pools, miles of beach along the fabulous Banderas Bay, and a large resort with staff that can meet all of your needs.
Where is "Nuevo Vallarta?"
Nuevo Vallarta is just a few miles north of the city of Puerto Vallarta. It's a relatively new community created to serve the thousands of visitors that flock to Banderas Bay each year. Along the edge of the bay are dozens of resorts, and the Grand Luxxe is the closest to Puerto Vallarta.
The Grand Luxxe makes a perfect introduction to Mexico and Puerto Vallarta by providing all of the things most people are looking for, while avoiding some of the trickier parts of travel. For adventurers, the Grand Luxxe is located next door to the Paradise Village Marina, where you can find fishing expeditions, whale watching excursions, jet ski rentals, sailing and yacht rentals and just about anything to do with water sports. You'll also find the Vallarta Adventures office, from which you can embark on zip line tours, trips to San Sebastian to see the old mining town, trips to Mismaloya, snorkeling and diving and dozens of other adventures.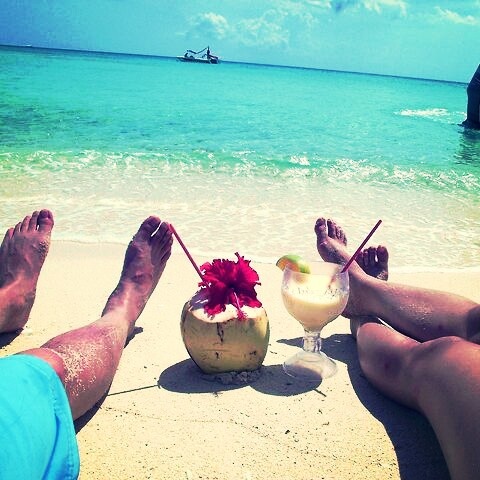 For those looking to relax and unwind, the Grand Luxxe makes it very easy to unplug from all those worries and cares. We often spend days poolside or at a palapa on the beach, where waiters deliver those famous tropical drinks and you can Instagram your toes to all your jealous friends.
And if you want to get into Old Town to see the sites there, it's easy to catch a taxi at the Transportation Center for the 20-minute ride into the Zona Romantica to see the old Cathedral, shop for souvenirs along the Cuale River walk, stroll the Malecon, do some bar-hopping, or dine at some of the fine restaurants in the area (though the restaurants on the Luxxe grounds offer a large variety of options as well.)
Amazing, Spacious Rooms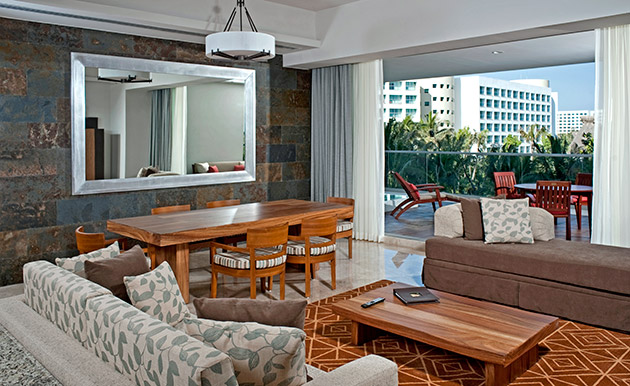 The accommodations at the Grand Luxxe are simply unparalleled. Nothing else in the area comes close. We usually get a two-bedroom Grand Luxxe Villa, which sleeps about 6 or so, with kids on the big couches in the living room and others in the sitting room in the lock-off. The villa is over 3,000 square feet, with a huge main deck and smaller balconies off the other bedrooms, so you won't be tripping over each other during your stay, even with a full house. The kitchen is well-stocked with pots, pans, utensils, plates and glassware, and has a cooktop and large refrigerator, coffee pot, blender and microwave. The bedrooms each have their own large bathroom, with a jetted tub and king-size comfy bed.
But What Is There to Do at the Grand Luxxe Nuevo Vallarta?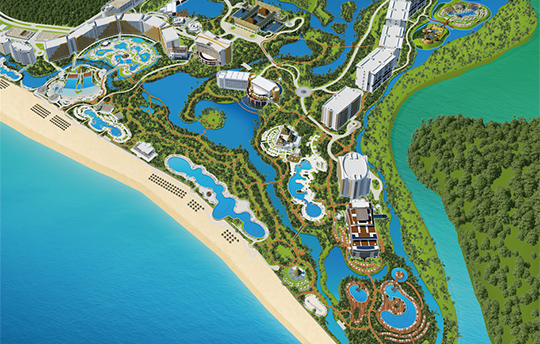 What isn't there to do? Vidanta Nuevo Vallarta is a large resort – one of the largest on the Bay. Boasting five levels of accommodations (Mayan Palace, Grand Mayan, Grand Bliss, Grand Luxxe and The Estates), the resort spans a huge 2,500-acre area. Within that space you'll find 38 bars and restaurants, 27 pools, over a mile of beautiful beach, and hundreds of remarkable staff all waiting to make your stay relaxing and enjoyable.

Our favorite day is a simple one – a day at the pool. Up in the morning at 6 (unbreakable habit from many years in public education), our Grand Luxxe Platinum Status allows us free coffee service provided by Vidanta. Sitting on the huge balcony, we watch the birds on the Ameca river fishing for shellfish, or just listen to the waves flowing into the shore.
After breakfast of yogurt and fruit, or maybe an egg from the kitchen, I like to head to the pool for some lap swimming time. Pools open at 9, so it's easy to get in a challenging set. Sometime in the middle, I'll see Dwaine strolling by, looking for a good place to settle for the day. He'll bring his phone to keep up with friends (our status provides free high-speed wifi all over the resort), and a book or headphones for music.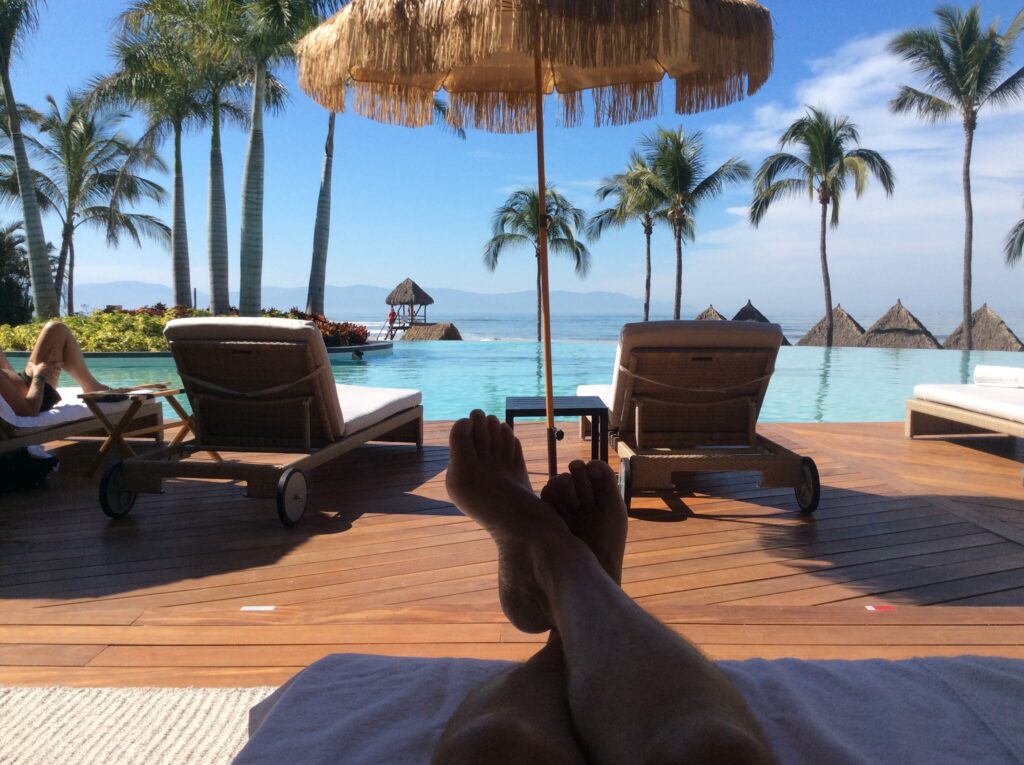 After my swim, I'll join him under an umbrella and chat for a while about the day. We might notice a naughty iguana trying to get to the freshest flowers by the pool, or watch the frigate birds lazily circling overhead, catching a great view of Puerto Vallarta in the distance.
Time for Lunch!
Soon the pool service waiter drops by with a menu and drinks list. We may order a salad or some ceviche, with a beer or some fruit concoction that makes vacation feel like vacation. A member of the Joy Squad comes by to clean our sunglasses and let us know the events for the day – yoga on the beach, stretching classes, pool aerobics, etc. Sometimes we do, sometimes we don't. Do what you feel becomes a motto very quickly when we are on vacation.
Friends come by to chat. We've brought many friends with us to Vidanta. The rooms are so large and comfortable that it's no problem having two or even four others in the unit. While they sign up for excursions through the concierge (zip-lining, fishing, snorkeling, shopping, . . . the list is truly endless), we generally opt for pool or beach days, sharing their adventures when they return.
And Where to Go for Dinner?
Talk turns to dinner – always a highlight of the day. In the mood for steak? Maybe Quinto on the rooftop. Or how about Italian? Tramonto is always lovely, and their ossobucco is not to be missed. Burgers? Lots of options there. Or perhaps just a night in, dining on the terrace and enjoying the view? Grand Luxxe offers 24-hour room service with a large menu to choose from.
Talk around the dinner table is always fun, with friends sharing their trip to the beach or parasailing or surf lessons. The Vidanta beach is the envy of Nuevo – huge, calm, free of seaweed or stones, very clean and safe for swimming. The new Beachland area is just too much fun, especially for young adults, with the largest swim-up bar that I've ever seen. The waiters are trained to be entertaining as well, and they have a lot of fun showing off their skills. Seeing the excitement on our friends' faces as they relate their daily stories is such a joy, and we look forward to it on every trip.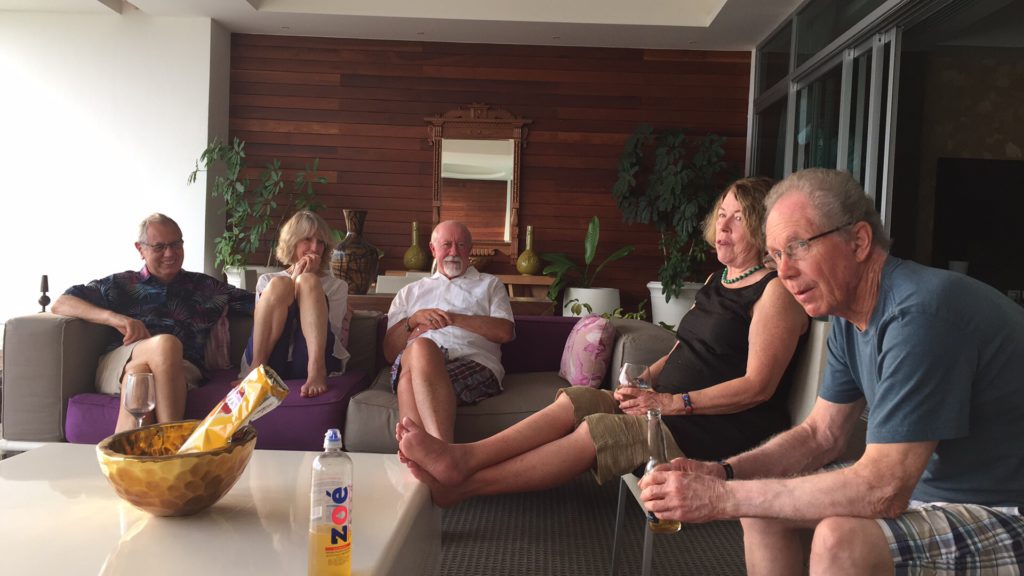 Finally, it's time to settle in for bed. The turn-down service has already been by to prepare the beds and leave a nightly treat. If I'm feeling a little sore from laps, I might opt for a good soak in the jetted tub before crawling in to bed. What a great day. And tomorrow might be the same, or entirely different.
And Then the Golf . . .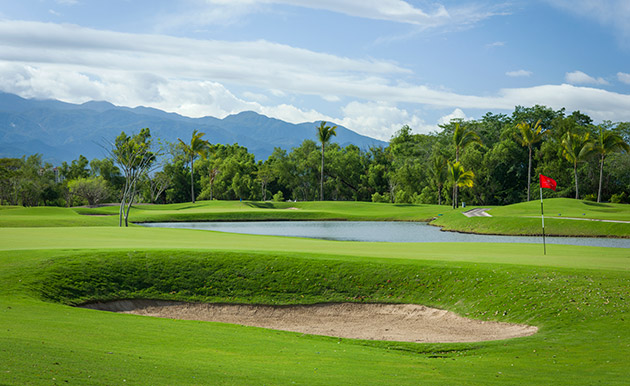 Besides the pools, beach, locale and accommodations, the Grand Luxxe is known for golf.  There are two incredible courses, a Jack Nicklaus and a Greg Norman, as well as a 9-hole par 3 night golf course.  If you choose to book a stay, be sure to check on whether the reservation includes both courses, because some only include the Nicklaus.  There is a small fee per round – it was $47 last time we were there.  Which, for these courses, was well-worth it.
The Grand Luxxe at Nuevo Vallarta is an excellent choice for your stay in Mexico, regardless of what you hope to get out of your trip. Check out our current listings below.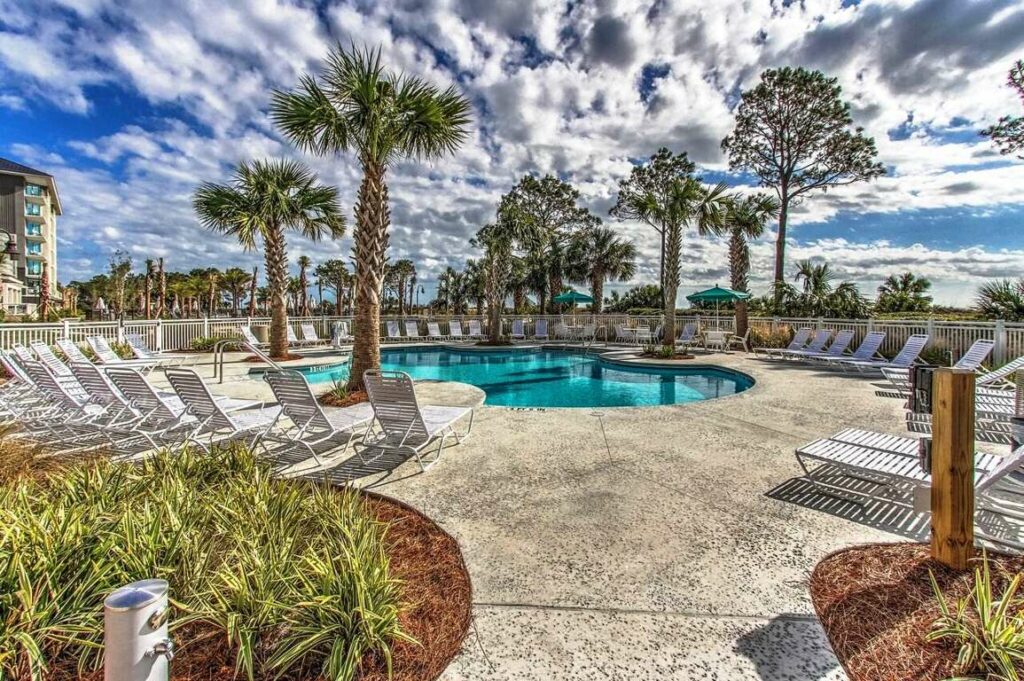 Ocean Dunes Villas on Hilton Head Island Prime Beachfront Unit at an Unbeatable Price! One…