B.E.A.C.H.: Best Escape Anyone Can Have
Vidanta Nuevo Vallarta offers the best B.E.A.C.H. on the Bay of Banderas.  But it's not just the sand and surf.  B.E.A.C.H. stands for the Best Escape Anyone Can Have.  It's a quick way to think about what to look for in a vacation getaway.
Just take a moment now to think about what you want most in a vacation.
Start with being taken care of from the minute you land in Mexico.  Vidanta's complimentary transportation to the resort from the airport starts you on your way to a stress-free check-in process.  There's something calming and reassuring in having someone waiting for you to get you connected to your complimentary transportation to the resort.
After getting checked in to your unit and getting your luggage delivered to your room, you then mentally begin to settle in to your B.E.A.C.H. experience.  You look around to appreciate the beauty and elegance of your accommodations – it's a bit overwhelming with the space and luxury.  But as you gaze at the beautiful view of the beach from your balcony, you begin to unwind.
After changing into something more relaxing, you quickly find yourself lounging under a palapa on the beach with your favorite cocktail, settling in to savor the first warm rays of sun.  Oh yeah . . . this is it.
Reinforcing to your soul, the peace and beauty of the waves, sand and sun is exactly what you were needing to start your B.E.A.C.H.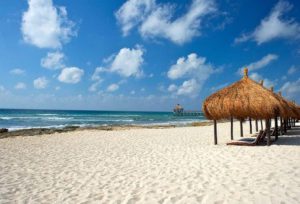 Feeding your soul with beauty, stopping to wonder at the simple pace of the beach, the waves gently reminding you of the ebb and flow of life.  It gives your mind the opportunity to put away all the packed-in stress and focus on the moment. It's a rare opportunity, but it can change your life completely.
Returning to your room, you say hello to the friendly maids as they perform their nightly turn-down service.  Chocolate on the pillow – check!  After a quick shower and change, you drop by the concierge on your floor to make a reservation for one of the excellent restaurants.  

Now it's time to explore some culinary adventures awaiting at Vidanta. The concierge recommends Tramonto, and you're in the mood for some osso buco.  You accept the priority reservation and head out with your crew.
You could ride the extensive shuttle system directly to the restaurant, but you opt to walk.  It's a fine early evening, and the grounds are so beautiful that you feel like exploring.  Wandering over the curved wooden walkways, you take in the flowers and plants that make you feel at times that you're in your own private paradise.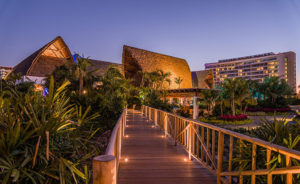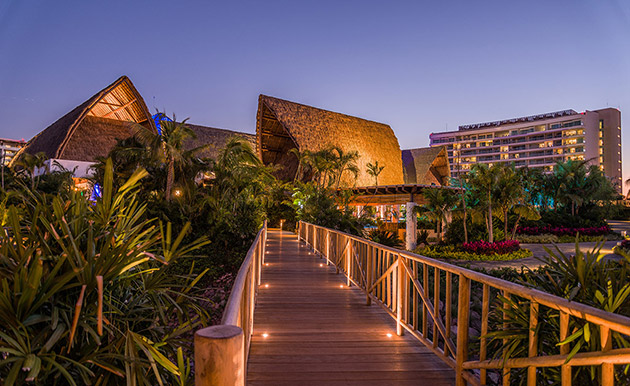 Your path takes you through the entertainment venue, Santuario.  Performers are already on stage, dancing to a samba that gets you bouncing a little as you walk.  You make a mental note to check back later to see the show.  But now, your stomach is rumbling from all the activity of the day.  And the osso buco is waiting.
Arriving at the restaurant, you're ushered immediately to your table, set amidst dark wood floors and small, quiet rooms.  Here you order some wine and toast to friends and amazing experiences.  Your B.E.A.C.H. is well underway!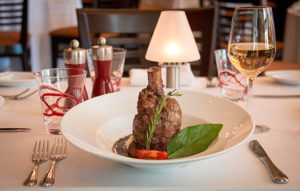 Your friendly and very well-trained waiter keeps everyone satisfied with an amazing array of appetizers, salads and soups.  The wine flows, stories are shared amid laughter and smiles.  And then your long-awaited main course arrives.  You are not disappointed.
After a shared dessert (simply too full from everything else to think about an entire piece of cheesecake!), your friends opt for the shuttle back to the room.  You and your partner, however, inspired by the wine and the flowers and the moon, choose a stroll on the beach.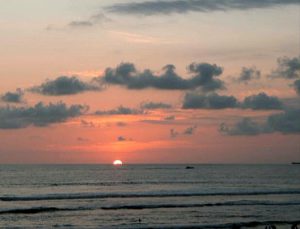 Shoes in one hand, you walk along the beach walk, nodding to others who've chosen the same.  The moon is setting just over the water of the Bay, huge and yellow.  It's just the end of your first day, and already you realize this is going to be the Best Escape Anyone Could Have.
If you'd like to book a B.E.A.C.H., contact us by clicking here.  We'll send more information and check availability.
Cowboy Concierge – Your Guide to New Experiences