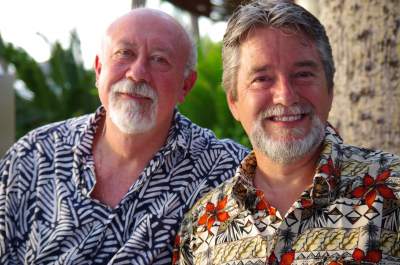 Hello from Don and Dwaine in Denver, Colorado! We've been eager travelers for many years now and created Cowboy Concierge to gather all of our experiences together to share with you.
We are both retired and in that stage of life that says, "Go for it!" We have our health and time and are always curious about new places and new experiences. We only wish we'd had a spot to go to help avoid some of the boo-boos we've made through the years. We hope we've created that spot here for you.
Why Cowboy Concierge?
Both Dwaine and I grew up in rural areas, never dreaming we'd wind up being world travelers. But due to our lack of experience as kids, we made avoidable mistakes when we made our first journeys around the country. We'll document all of those for you so that you can learn from them and be able to just skip all that on your way to enjoying the world.
We also love to share our experiences in various places we've traveled. I'll make recommendations for locations, resorts, hotels, condo rentals, restaurants, sites and activities that we've participated in to give you first-hand knowledge of where to start on your journeys.
Our goal at Cowboy Concierge is to help you create unforgettable life experiences.
Both Dwaine and I have had our share of health issues over the years. I'm a two-time cancer survivor, and he's recovered from a stroke some years back. Because of all that, we strongly believe in creating life experiences now, not waiting for some magic time later in life where you think it will be easier or less confusing.
Browse through the site and check out our various offerings. We specialize in Mexico resort travel, and have lots of options at many price points for you to consider.
How to travel with Cowboy Concierge
Though we aren't a travel agency, we have access to thousands of travel opportunities world-wide. Beach vacations are our specialty, but we can also find city apartments and condos as well. And because we've probably been there, we can fill you in on all the best tours and activities in the area of your choice.
When we have a unit to offer, we'll post it under the "Current Rentals" tab on the menu. If you're interested and have questions, just send us a note via the email link attached and we'll get back to you right away. If the confirmed date doesn't work for you, we can help find alternate dates or units that may work for your vacation plans. And we always offer the best value for the money.
We accept Paypal for our payments. This offers protection for you and for us, and makes payments easy. See our Cowboy Concierge Rental Agreement here.
If you ever need a hand or have any questions, feel free to send us a note and I will be more than happy to help you out.
---
---
All the best,
Don Herman Dwaine Schmidt
CowboyConcierge.biz