Grand Luxxe Nuevo Vallarta
Enjoy a week's stay at Vidanta's flagship Grand Luxxe Nuevo Vallarta in a beautiful, 2 bedroom Grand Luxxe Villa!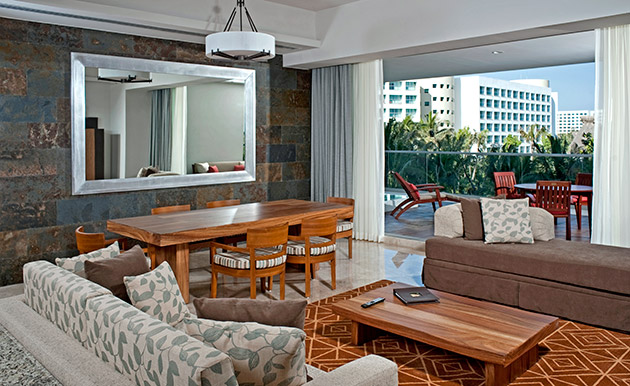 Enjoy a week at the Grand Luxxe Nuevo Vallarta for an unforgettable vacation experience.
This beautiful unit features two bedrooms with 2 king-size beds, two and a half bathrooms with two Jacuzzi tubs, a terrace with a plunge pool, a separate private deck, a gourmet kitchen, two living areas with sofas, and four TVs.
The 3,000 square foot unit will accommodate 8, (five adults and three children) with a grand sofa in the private, lock-off sitting room and also in the main living area.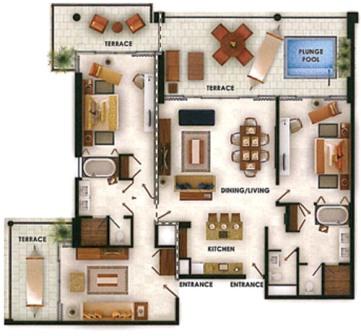 Vidanta provides free shuttle service to the resort from the airport. Just contact them via email (on the registration form) with your flight information and number of guests, and a shuttle will be waiting to meet you at the airport. (Return trip is not included! You won't want to leave, either.)
In your Grand Luxxe Villa, maid service is provided twice daily – and yes, you get a chocolate on your pillow.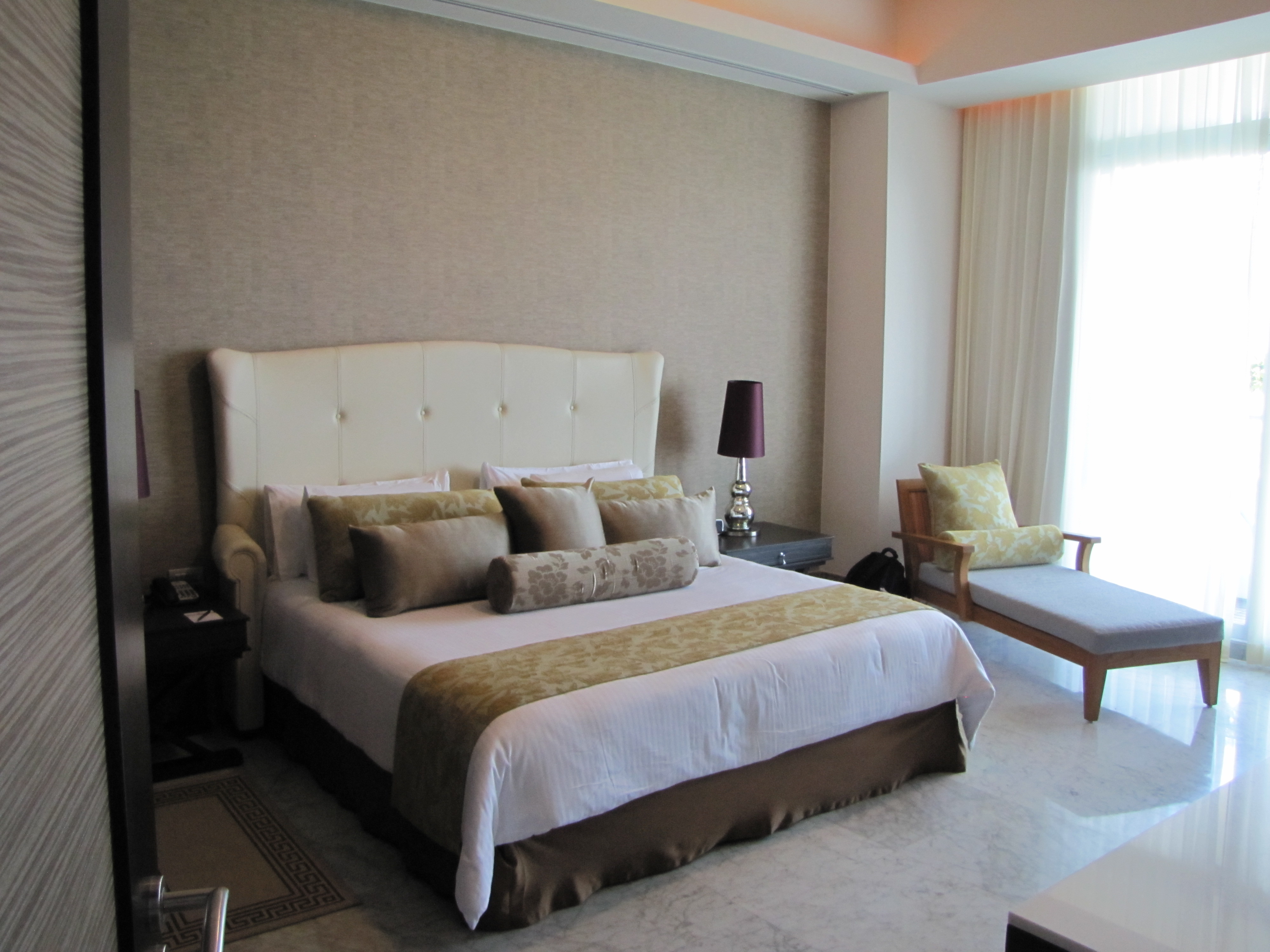 Because of our status as Founder's Level members, our guests also receive a plethora of platinum-level amenities, including:
Full access to all Grand Luxxe levels of the resort.
Gym and Spa: 2×1 basic, 50-minute spa massages, plus use of all facilities of the gym and Brio Spa free of charge.
Internet: Free internet access during your stay at the resort.
Tennis: Free tennis during daylight hours. A small fee applies for nighttime illuminated play.
Butler Service: Want your pantry and fridge stocked before you arrive? Simply send a list of things you would like in your room upon your arrival. (Some restrictions apply).
But Wait . . . There's More
Preferred Restaurant Reservations: Tell your concierge where you would like to eat and at what time, along with how many are in your party and the concierge will assure your dining selection. (Reservations must be made 24 hours in advance.) We use this one a lot!
Preferred Spa Services: Take advantage of the many massage and body treatments offered at BRIO or Spatium Spa and Fitness Center. (Reservations must be made in advance).
Preferred Tee Times/Golf Reservations: Enjoy advance booking for your rounds of golf. Simply call the Pro Shop in advance of your trip to book your tee times. The phone number is provided on your registration form. Our friends use this to secure the best morning slots!
Preferred Check-in: Enjoy an exclusive check in experience, free of long lines and waiting time. This new service is solely for Platinum and Gold members.
Preferred View: This exclusive benefit ensures Platinum Members the most desirable views. (Specific buildings, floors or views cannot be guaranteed, but you have the best chance of receiving what you want.)
Better Than an All-Inclusive
Of course, once you arrive, you'll want to enjoy all the amenities of the huge Vidanta resort. You'll have access to fine dining, in-room 24-hour room service, spa treatments, pools, bars, and entertainment – while leaving your wallet securely locked in the safe. No cash exchanges on the resort – you and your guests are given individual accounts to charge any purchases to your room with a signature. Better than an all-inclusive, with their sky-high daily mandatory fees. At Vidanta, you eat and drink only when you want, and pay for only what you consume. Have coffee and toast in the morning. Get off the grounds and sample some local cuisine. Order a pizza after that long day of swimming in the Bay. You won't feel guilty for skipping your all-inclusive food and drinks!
So – speaking of fees – how much for this exclusive, one-week stay?
Our price, just $2,850 with 6 rounds of golf.
Or, just $2,750 without the golf.
(plus additional occupancy taxes and any voluntary gratuities.)
Over the years, we have donated weeks to the Mapleton Education Foundation, sending many of you to Puerto Vallarta or the Riviera Maya for a stay in a Grand Luxxe. Every single person has come back raving about the luxury, the service and the unforgettable experience they had on their Vidanta vacation. We want to extend this opportunity to more of you.
Grand Luxxe Nuevo Vallarta – Don't Wait . . . Seize the Day
Both Dwaine and I have had our share of health issues over the years. And this has further confirmed our philosophy: Don't Make a Bucket List . . . Live Your Bucket List. Instead of putting dreams on a piece of paper to wither away at the back of a drawer, seize the opportunities now! Change your life and your way of viewing the world with a trip down a zip line over a stunning gorge. Release loggerhead turtles into the sea and help them to rebuild their populations. Swim and walk and exercise, surrounded by jungle plants and birds. Share all of this with friends and family and build those unforgettable experiences for yourself.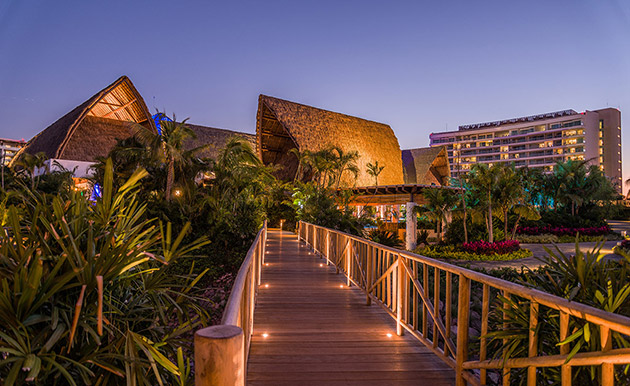 If you are interested in securing this high-season week for yourself, just click the button below and send us a message. See our Rental Agreement below for more details. Read up on all the activities and luxurious benefits available to you at the Grand Luxxe Nuevo Vallarta. And feel free to peruse our website for many more photos of the resort and tips for traveling to Mexico. But act now – this week is available on a first-come, first-served basis!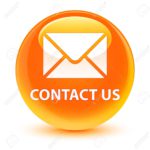 Looking for a different week? Larger or smaller unit? Different location? Cowboy Concierge has many other options available. Click the button to send an email and tell us what you're looking for, and we will do our best to find availability. We look forward to serving you at Cowboy Concierge!