Grand Luxxe 3 Bedroom Loft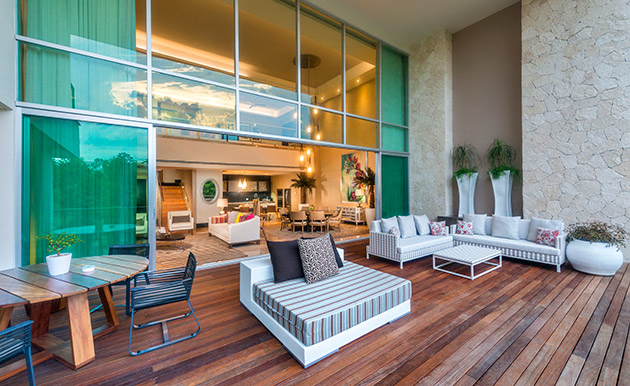 Over 6,000 sq ft on two floors, the Grand Luxxe 3 Bedroom Loft provides the perfect space for a large family gathering or celebration.
Located just minutes north of Puerto Vallarta on the Bay of Banderas, this Grand Luxxe unit offers the following:
A full gourmet kitchen, with cooktop, oven, microwave, full-size refrigerator, wine cooler, small appliances and cookware.
3 large bedrooms, each with en-suite bath (plus one more public bath with shower downstairs)
2 Jacuzzi tubs
2 bedrooms have king-size beds, while the 3rd has two double beds.
Breakfast bar and large dining table for eight.
Huge deck with dining table and sofas, with private plunge pool.
Upstairs television loft for watching the game (one of 4 flat-screen televisions).
Laundry room with washer and dryer.
And of course, every Grand Luxxe unit comes with Vidanta's high-quality service. Maids clean daily, and a turn-down service helps you get ready to rest easy for the night.
---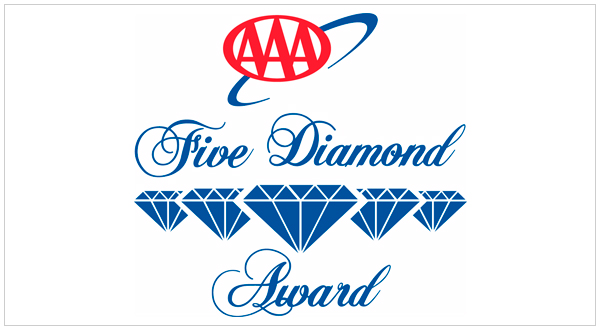 AAA Five Diamond Award
Vidanta Grand Luxxe Nuevo Vallarta
The AAA Five Diamond Award is the highest recognition given by AAA regarding excellence by restaurants or hotels/resorts.
---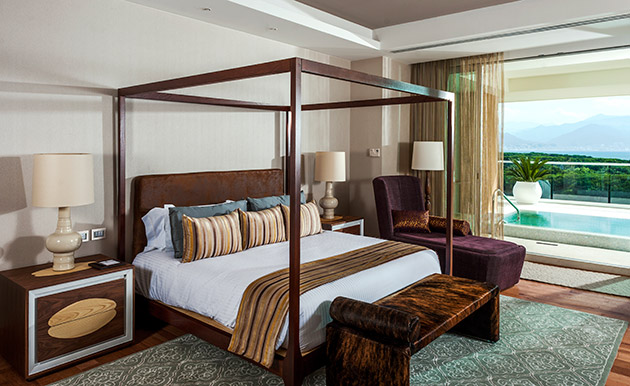 Why Choose the 3 Bedroom Grand Luxxe Loft?
The 3 Bedroom Loft unit is the perfect combination of space and luxury. Even with two other couples or another couple and children, you are never falling all over each other. There's just so much room!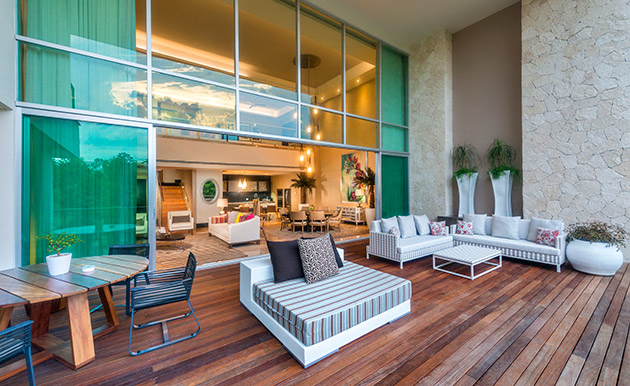 Dwaine and I have stayed in this unit many times and have always enjoyed the ease it affords. After a busy day by the pool, the Loft is an oasis for us to enjoy quality time with friends and family on the deck, with fresh margaritas and maybe some ceviche!
Of course, in the Age of Covid-19, Vidanta is leading the way in providing a safe environment for all their guests. Check out my post on Traveling to Mexico in the Age of Covid to learn all about the health and safety protocols implemented by Vidanta.
Imagine your next family getaway here in Nuevo Vallarta! Just north of Puerto Vallarta, the Vidanta resort offers unrivaled luxury with unforgettable activities.
The Bay of Banderas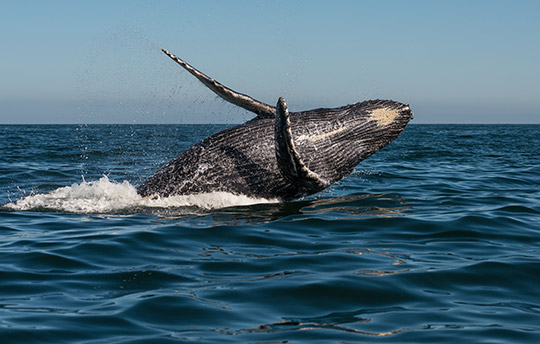 Vallarta's Main Attraction is easily the beautiful Bay itself. With over 100 miles of coastline, the Bay is one of the largest in Mexico, and every day you'll see it bustling with dozens of exciting activities
Vidanta occupies the most beautiful and calm section of the Nuevo Vallarta beach. Stretching for miles along the property, you can spend the day relaxing on a lounge chair while sipping those fruity tropical drinks that make vacation, vacation!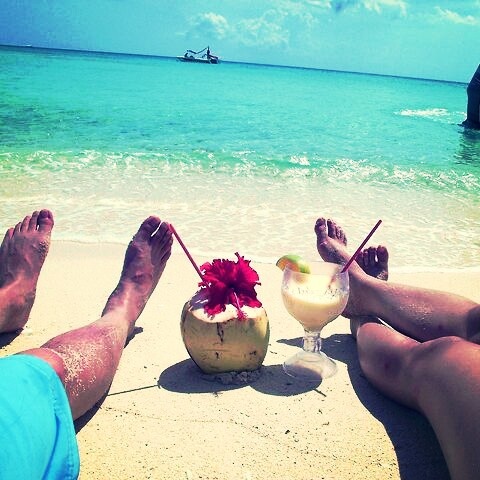 Through your Vidanta concierge, book a Bay tour or a fishing trip. Snorkel the hidden beach on the protected Marieta islands or off the Los Arcos rocks toward Mismaloya. And nothing beats a romantic evening cruise with the twinkling lights of Puerto Vallarta in the distance.
The Bay area also sports numerous inland activities. Ziplines are always popular, as are tours into town to taste the foods of Mexico (or maybe the tequilas of Mexico!) The old colonial town of San Sebastian makes for a great day trip. Rent ATVs and explore the jungle with your family.
Pools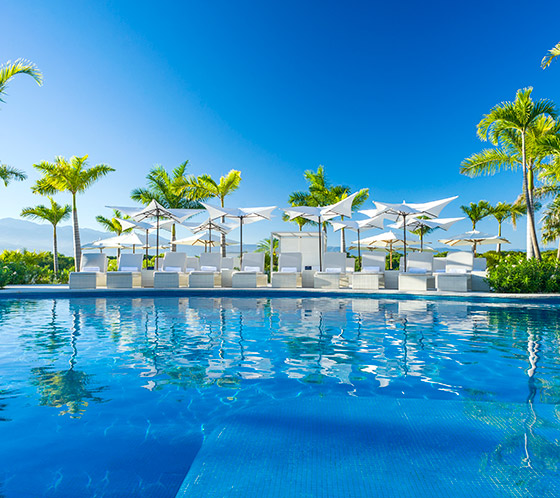 Vidanta Nuevo Vallarta has many pools and lounging areas so you're sure to find your favorite. Ours is the infinity pool just outside Grand Luxxe Tower One, but your Loft unit will be right next to the Spa Tower pools, with areas exclusive to your Platinum status. Lunch and drinks are served all day by dedicated waitstaff. All transactions require only your signature, so no need for a wallet.
Explore Vidanta Golf
Your rental comes complete with 6 free rounds of golf on the Nayar or Norman courses in Nuevo Vallarta.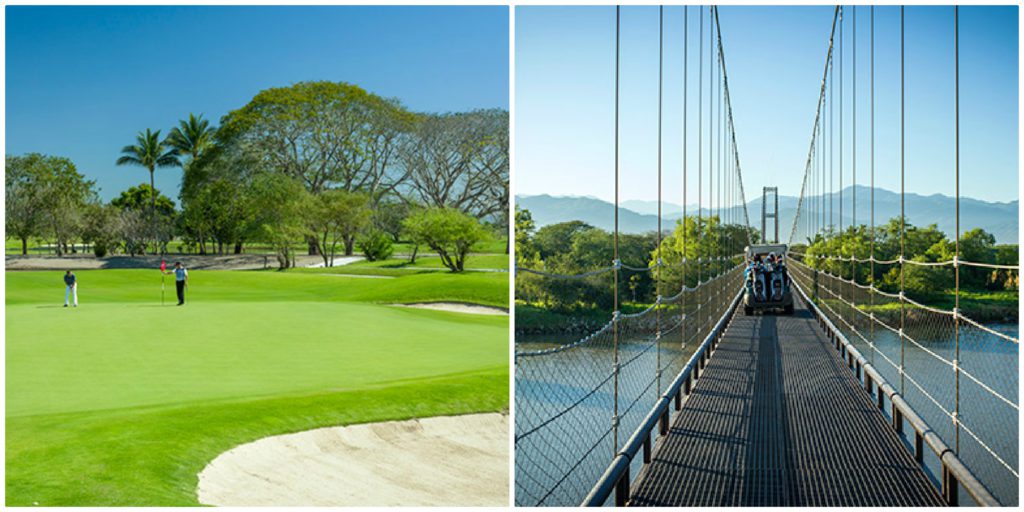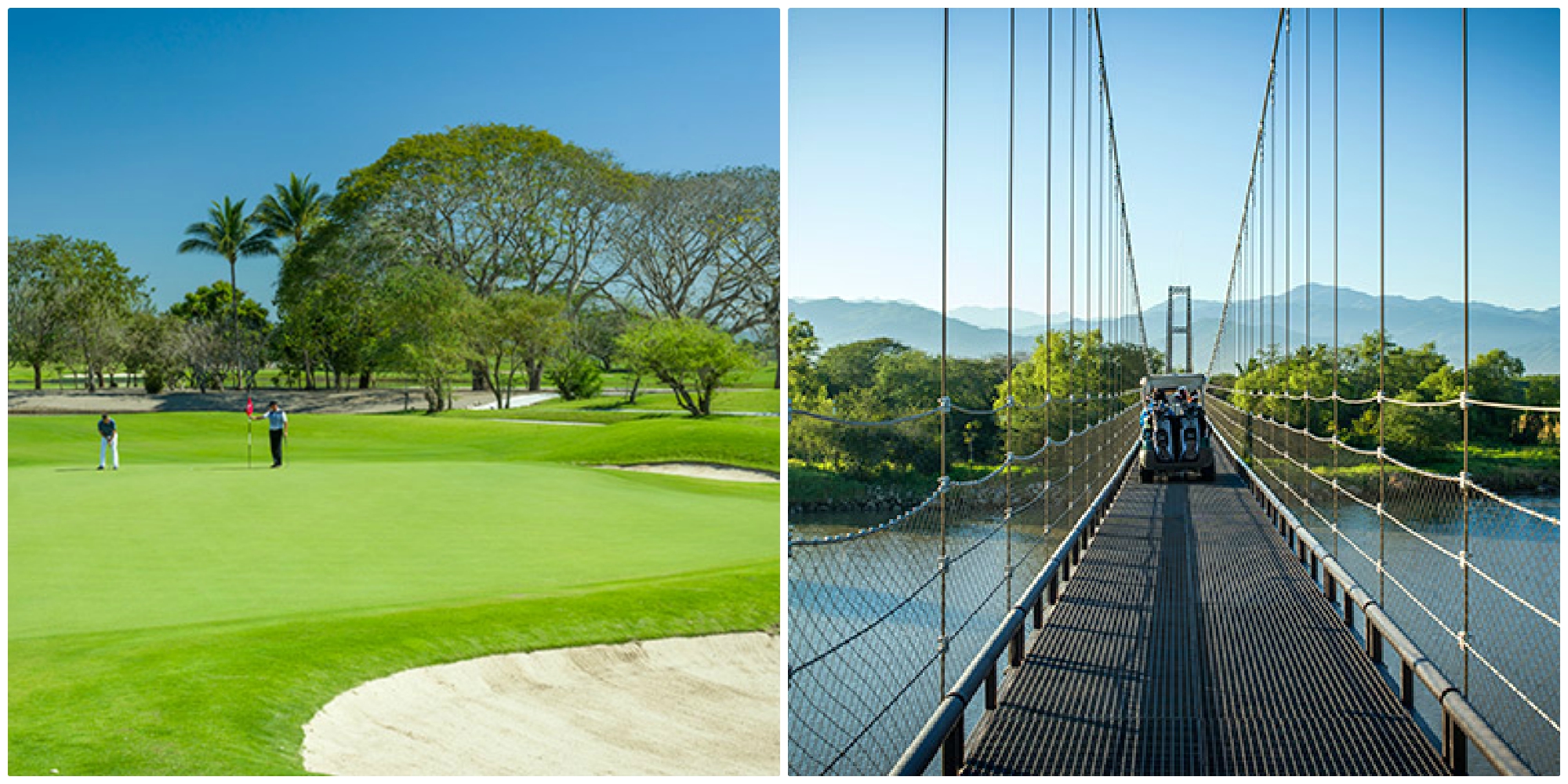 Nayar – A natural and technical masterpiece, this 18-hole, par 70 course is forgiving to beginners, but is rimmed with seven lakes and 49 strategically placed bunkers that can challenge the most experienced golfers.

Norman Signature – 18-hole Norman Signature Course, home of the Mexico Open, boasts a beautiful and enjoyable layout, which can only be accessed by the Ameca Bridge. This course features wall-to-wall paspalum and challenging shots around the greens.
Night golf is available too, on the brand-new lighted par-3 evening course. A small additional fee applies. See my article for a first-hand review of golf at Vidanta Nuevo Vallarta
Grand Luxxe 3 Bedroom Loft – Dining and Entertainment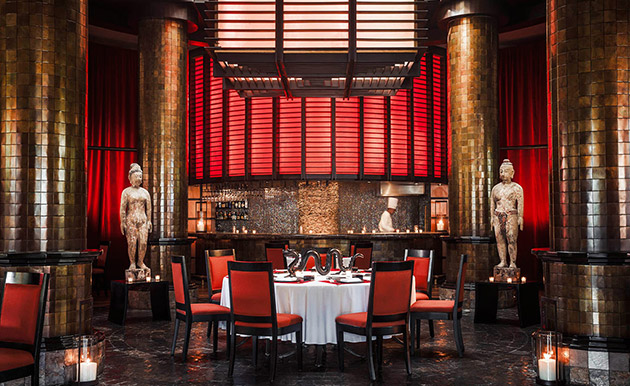 Though your unit contains a full kitchen, you're on vacation! Explore all of the top-notch restaurants on the grounds, or hop in a taxi to explore the offerings in Puerto Vallarta.
One of our favorites at Vidanta Nuevo Vallarta is Gong, a beautiful Asian-inspired restaurant right on the banks of the lake, complete with a dancing-fountain, laser-light show! Gong offers a regular service and a teppanyaki evening – with your friends seated around the grill while your personal chef cooks up your shrimp, chicken, beef or tofu in style.
Before dinner, be sure to stop in and visit our friend Jose at the Grand Luxxe Bar in Tower One. He will make sure your pre-dinner drinks are served up expertly, while you enjoy some light entertainment. And say hello from Don and Dwaine! (OK, so maybe he knows us too well!)
And when your day is done – rest.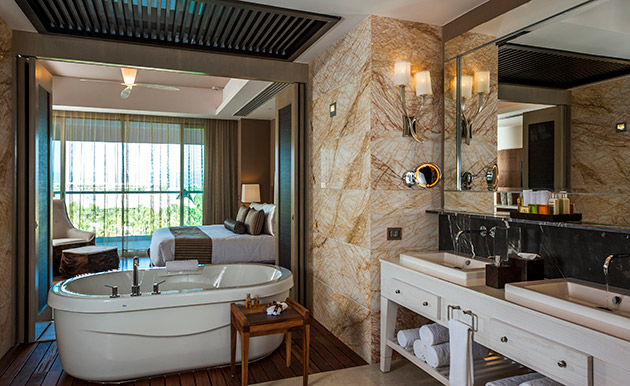 Relax and unwind in your private oasis. Take a long soak in your jetted tub, complete with top-of-the-line spa products. Catch a movie on one of four flat-screen TVs, with many English-speaking channels available.
And speaking of spa – you can even schedule an evening massage at the Spatium spa, a perfect way to end your day and ensure a great night's sleep.
---
---
Why Rent from Cowboy Concierge?
As Vidanta members, we can extend to our guests the same rights and privileges we enjoy when we visit the resort. This is not the case when you rent from other websites! As Platinum Status/Founders members, we offer you the following exclusive benefits and services:
Golf: Up to 6 free rounds of golf, with additional rounds available for a small fee (plus taxes and mandatory caddy fee).
Gym and Spa: Two-for-One basic 50-minute massages, plus use of all facilities of the gym and spa free of charge.
Internet: Free internet access during your stay.
Tennis: Free daytime tennis.
Butler Service: Call Guest Services before your stay with a list of items you'd like stocked in the fridge, and everything will be waiting for you when you arrive (some restrictions apply.)*
Preferred Restaurant Reservations: Select the restaurant of your choice, time and number in your party, and your concierge will assure your dining selection. (Reservations must be made 24 hours in advance).
Preferred Spa Services: Rest, Relax and Rejuvenate. Take advantage of the many massage and body treatments offered at Brio Spa & Fitness Center. (Reservations must be made 72 hours in advance.)*
Preferred Tee Times/Golf Reservations: Enjoy advance booking for your rounds of golf. Simply call the Pro Shop 72 hours in advance to book your tee times.*
Preferred Check-In: Enjoy an exclusive check in experience, free of long lines and waiting time.
Preferred View: Platinum and Charter members get first dibs on their preferred view. *
*Cowboy Concierge will send you a reminder email to let you know when to put in your request, for best results.
Cost and Details
1 Week Stay at Grand Luxxe 3 Bedroom Loft
$5,000
(Vidanta will charge a small daily room tax of about $7.00 US. They may also ask for a contribution to their youth foundation, which is optional.)
The primary renter must be at least 25 years old, with a valid credit card.
The Cowboy Concierge Rental Agreement must be signed and returned prior to finalizing booking.
We realize your vacation time is very precious and that you probably have questions. We are here to help. Contact us by clicking the button below and we will get back to you as quickly as possible. If you prefer a phone call, let me know and I'll send the number on to you.
At Cowboy Concierge, we accept PayPal and credit cards.