Grand Luxxe Nuevo Vallarta – A Private Chef Experience
Looking for a truly unique experience that brings your friends together for an unforgettable evening?  Check out the Private Chef Experience at Grand Luxxe Neuvo Vallarta!
Recently, Dwaine and I traveled to Nuevo Vallarta with three other couples to stay at The Residence at Vidanta.  This four-bedroom, 6,000 sq. ft. unit is currently the largest unit available at Vidanta (though the Jungle Estates are being constructed as you read this – more on that later).
The point of our two-week stay was to reconnect with our friends.  Life gets busy, even being retired.  We travel quite a lot, so making time with people can get difficult, and spending time with all of them together is downright rare!  So we planned this getaway a year ago to make sure that we carved out some quality time.
And of course, we all love to eat!  There are certainly plenty of wonderful choices on the Vidanta grounds.  Our current favorite is Gong, the Asian-themed restaurant situated on the lake.  But we wanted to try something new this time – hiring a private chef to prepare our meal in the room.  With such an amazing space, with a huge deck and beautiful view of the Bay of Banderas, it only made sense to enjoy it as much as possible.  And what better way than to stay put, talking and catching up with one another, while the resort brings a lovely meal to us!
We made the arrangements with our concierge on our day of arrival.  We were provided with a menu from which we all made our selections a day in advance of our meal.  The menu included a variety of meats and fish, as well as vegetarian options.  Everyone was allowed to order whatever they wanted.  The cost was simply the price of the menu items plus a modest fee for the chef.  I've included a link to the menu as of January 2019, but be aware that the menu and pricing changes frequently, depending on market fluctuations.  Menu for Private Chef In-Room Dining
That evening, the chef arrived at the door with a fully-prepped cart, along with a waiter to assist.  We'd been chatting and enjoying the sunset over the Bay, and after exchanging greetings and answering any last-minute questions, we let them work.

The waiter cleared and set the dining table, and the chef laid out all the items she would need to prepare the meals.  They brought everything, including the plates, glasses, placemats, napkins, etc. We had wine ready on the bar and the waiter offered to open it to let it breathe before dinner. The chef was very accommodating about answering questions about the meal as she cooked.

It was really interesting to watch the chef plating the food.  I love to cook, but plating is a skill all in itself.  She was very precise and artful about how she set up our dishes – take a look:

And then it was time to eat!  We were served each course by the waiter as we talked about our day.  Several had golfed so we heard about their adventure, while the rest of us who had gone to the pool or the beach shared their stories too.  The evening was exactly what we'd hoped for – a time to reconnect without any distractions, in a setting that helped everyone to relax and enjoy one another.
We progressed through the dinner, with the chef continuing to impress and the waiter attending to every need.  We topped it all off with several desserts that we shared, as well as a toast to the amazing staff.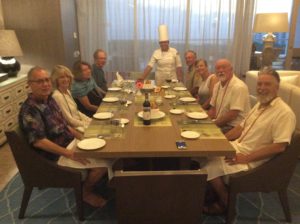 The Private Chef services are available at any Grand Luxxe property – from the Villas to the Spa Tower, the 3 Bedroom Loft and our 4 Bedroom Residence.
If you're interested in booking a stay at the Grand Luxxe, here's a link to an available week, or contact us via email to enquire about other options.