Is Mexico Safe for Travel?
Is Mexico Safe for Travel? We get this question all the time. The answer is both simple and complex, and it really depends on what you're looking for in your trip to this vast and amazing country.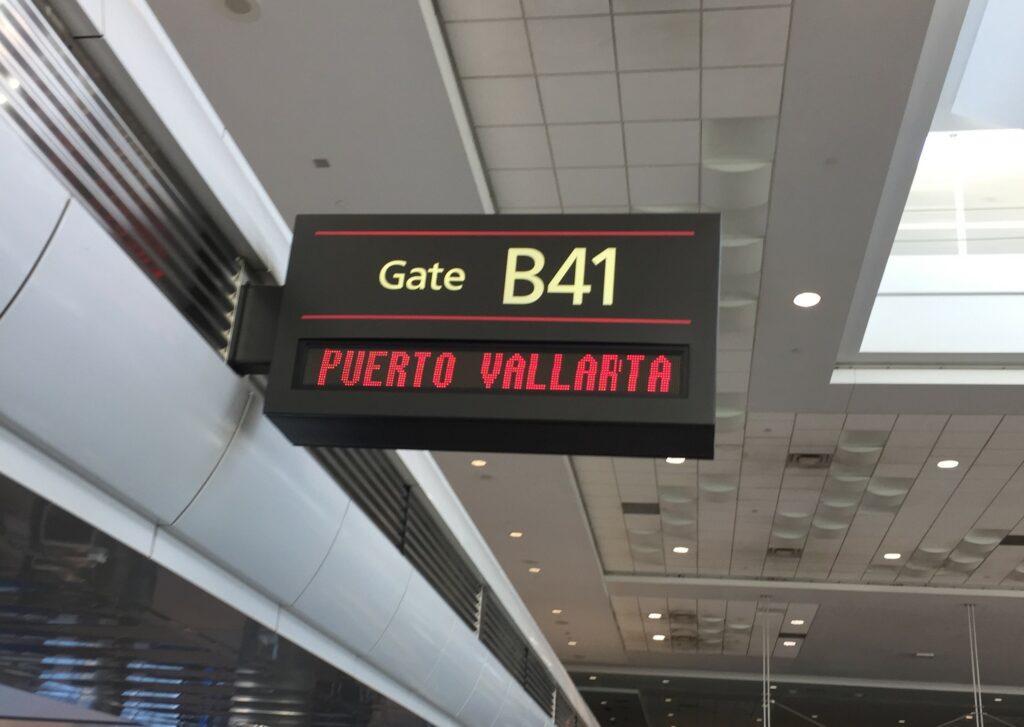 Is Mexico Safe for Travel? Our Experience
Dwaine and I have been traveling to Mexico for about 15 years now. We bounce back and forth between the Puerto Vallarta area in Jalisco state and the Riviera Maya in Quintana Roo. And in all those years, we've never had a single problem of any kind.
Not to say that things never happen in Puerto Vallarta. The population of the city is about 300,000, so of course there is crime that goes on. But like anywhere, it depends on what you like to do while traveling.
What Kind of Traveler are You?
Our Mexico stays are our downtime. We stay in various timeshares, namely Vidanta in Nuevo Vallarta and Riviera Maya and Lindo Mar in Conchas Chinas, immediately south of Puerto Vallarta. Both are very safe, well-run resorts that cater primarily to us gringos. We stick to town, enjoying the beaches and restaurants and sometimes a bar or two. We're not really night-owls, so we aren't out too late at night. We go to Mexico to relax!
And like anywhere, what you choose to do will dictate your chances of running into trouble.
How Do You Avoid Trouble at Home? Do That in Mexico
If you're wanting a night out on the town, Puerto Vallarta's Zona Romantica has a raft of places to let off steam! From all the gay bars to some high-end nightclubs along the Malecon, PV is just a really fun place to be at night. But like anywhere, you need to protect yourself.
Go With the Group
If you can, go with a group and stick with them. Having a "buddy system" is a great way to keep safe in any city. Keep tabs on each other throughout the night and make sure you know when plans are changing.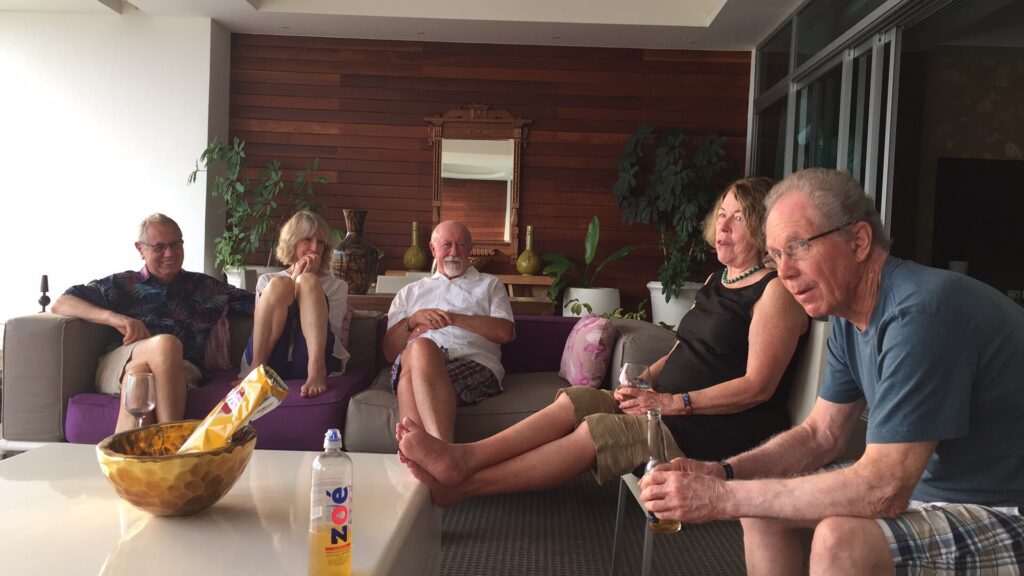 Be very cautious about accepting party invitations to places far away from the tourist areas. The tourist areas are patrolled heavily by regular police and the tourist police, so problems are pretty rare around there. But – like anywhere – the further off the beaten path you get, the more likely you are to run into trouble. Also, it can be very difficult to secure a ride home if you're far away from the tourist zones.
Taxis and Ubers
Walk together or share a cab or Uber to the clubs. Again, safety in numbers! Take a photo of your cab or Uber so you can identify it later if you lose something. Be sure to get in the right Uber by waiting for the driver to say your name as confirmation (which they are supposed to do). If you're taking a taxi, pick one up from a taxi stand and have them drop you off at the door of your hotel or resort. We've never had a problem with a taxi and they are everywhere in PV, but by getting dropped off at a hotel, you have people around who can help, just in case.
Drinking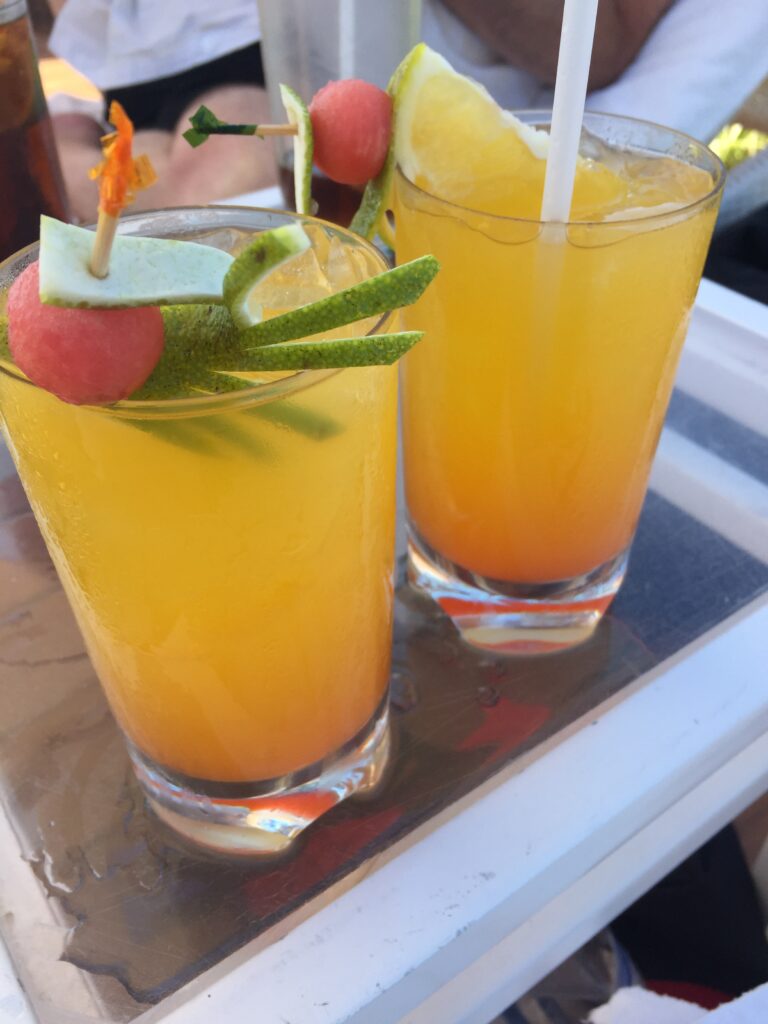 Keep tabs on your drinking. I get it – you're on vacation and it's time to party! But the old joke is true: "One Tequila, Two Tequila, Three Tequila, Floor." Just like at home, you don't want to surrender all control to the alcohol. Keep an eye on your buddies and let them keep an eye on you. Take a card with the address of your hotel or resort so you can refer to it when ordering your Uber or taxi. And consider just hanging at the resort if you really want to tie one on.
There have been incidents of drink-spiking. Just like in the States, do not leave your drink unattended!
Go to the Light
When walking, choose the route that keeps you in the busiest, well-lit areas. Avoid the shortcuts. It's more fun that way anyway! In Puerto Vallarta, the Malecon walk gives you access to the busiest clubs and bars and is a beautiful way to experience Vallarta at night.
Secure the Goods
Avoid flashing the cash or jewelry. If you don't need it, don't bring it! Phones are probably the number one item to be stolen, so secure yours carefully in a shoulder bag. Don't bring wads of cash. Most places accept cards these days, so streamline your wallet and keep it in a front pocket or shoulder bag.
Billy, Don't Be a Hero
Alcohol and crowds will often lead to . . . disagreements. If things get dicey, find a bouncer, police or just vámonos de aquí. They're a lot more equipped to deal with fights than anyone else.
Driving in Mexico
Personally, I have never driven a car in Mexico, nor would I want to. Not because it's particularly dangerous (at least not in town), but because of the hassle and expense of it all. In PV, it's easy to get around without one.
But if you want to experience smaller towns, investigate some of the Mayan ruins or just see the inland scenery, renting a car is the best option for you. Here's a great and thorough article that can guide you through all the things you need to know about driving in Mexico.
Scams and Other Naughtiness
Probably the most common crime you could run into in Puerto Vallarta is the simple scam. Someone wants something, and they trick you into letting them have it.
There are a thousand ways this can happen, and often it can happen in broad daylight in a busy area.
The Salsa Squirt
In Puerto Vallarta, a common technique is the "Salsa Squirt." Someone squirts a little sauce on your shirt, and a "helpful" person comes along to point it out and help you clean up with some napkins. In the ensuing patdown, they lift your wallet.
The ATM Ripoff
First, if you're walking around a city in Mexico looking for some cash, you will see dozens of little stand-alone cash machines on street corners. They look something like this: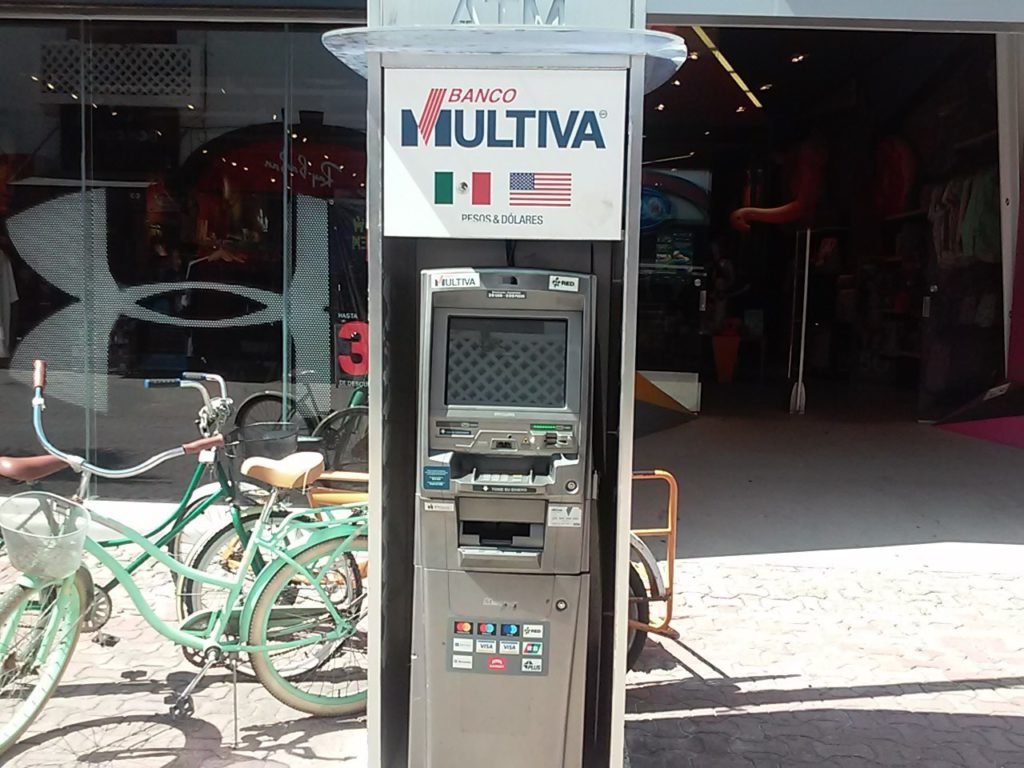 Just Walk on By
They are commonly sitting out in the open, not inserted in a wall, and often they say "CASH" on them in English. They have no bank association, or at least – not any bank you've ever heard of. When you see them, just keep walking. They either dispense US dollars (which is exactly the opposite of what you're wanting), or they give pesos, but at a terrible exchange rate. Thieves place skimmers more often on these machines – fake overlays to the card slot or PIN pad entry, where they gather your personal information and use it to clone new cards. And sometimes – as was happening recently in Playa del Carmen – they have been tampered with so as to prevent them from dispensing your cash at all. Once you leave in frustration, the thieves come back and collect.
The Timeshares
You're walking down the street and someone from a kiosk asks if you're looking for an excursion – perhaps a fishing trip or a zipline tour. These are fun things to do, but the first thing you should ask is, "Do I have to listen to a timeshare presentation?" Even if they say, "No", I would probably keep on walking. If you want to go on an excursion, it's best to arrange that directly through your hotel or resort.
The Naughty Cabby
We use taxis all the time and find them safe and convenient. But sometimes you may run into a problem when you think you're going to pay one thing, and the cabby tries to charge you another.
The cabs in Puerto Vallarta all charge based on zones, and the rates are standard. Before you get in to a cab, be sure to ask the driver how much the total fare will be, and compare it to the zone map. Fares are charged by ride, and not per person.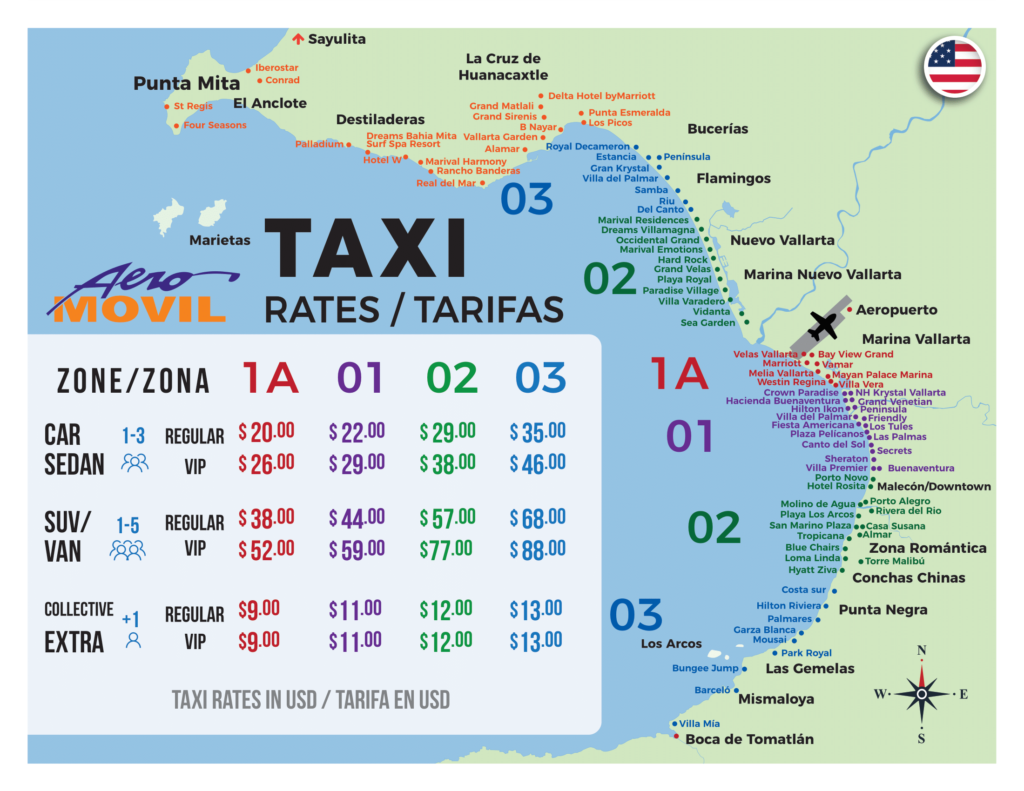 It's always better to pick up a cab at a taxi stand and to have them drop you off at a hotel or resort. In a pinch, you can ask the hotel concierge for help in dealing with any potential problems (though most likely, if they are taking you to a hotel, they won't even bother trying to scam you.)
Is Mexico Safe for Travel? We Say, "Yes."
Mexico is as safe as most places we've ever traveled, and if you exhibit some common sense, you'll have the same experience we've had for fifteen years.
And if you're looking to dip your toe into international travel, why not consider a stay at a safe, exclusive resort? Check out my article on Experiencing the Sublime at Vidanta.