Grand Luxxe Luxury in a One Bedroom Unit
RENTED. 

– One Bedroom Grand Luxxe Unit in Nuevo Vallarta over New Year's Week December 28, 2019 – January 4, 2020.

Imagine spending this New Year's Eve in the most exclusive resort in Mexico – the Grand Luxxe Nuevo Vallarta.  Warm sun, huge beach, pools, gourmet restaurants, golf, spa, and gorgeous surroundings will make the start of 2020 simply unforgettable.
We have it booked and waiting for you – and at a great price!
A one-bedroom unit at the Grand Luxxe is known as a "Suite".  It consists of the main living/dining/kitchen area, plus the master bedroom with full bath:
Your 1,800 sq. ft unit contains a full kitchen, master bedroom with king bed, television and balcony access.  The attached master bath has a jetted tub, huge shower, double sinks and large closet with safe.  The full kitchen has range and hood, full-size refrigerator, microwave, and other appliances.  The dining and living space opens on to a full-length terrace, with doors that open fully to maximize the view.
When you're not in the room, you'll be out enjoying everything the Bay of Banderas has to offer.  Besides the warm sunny weather, your concierge can arrange snorkeling, jet ski rentals, deep-sea fishing or boating, zip-lining, or interesting tours of the surrounding area where there is always a lot to see.
If golf is your passion, you'll be able to indulge in any of the 3 on-grounds courses: an eighteen-hole Nicklaus design, an eighteen-hole Norman design, as well as a par 3 evening course where you can play under the lights.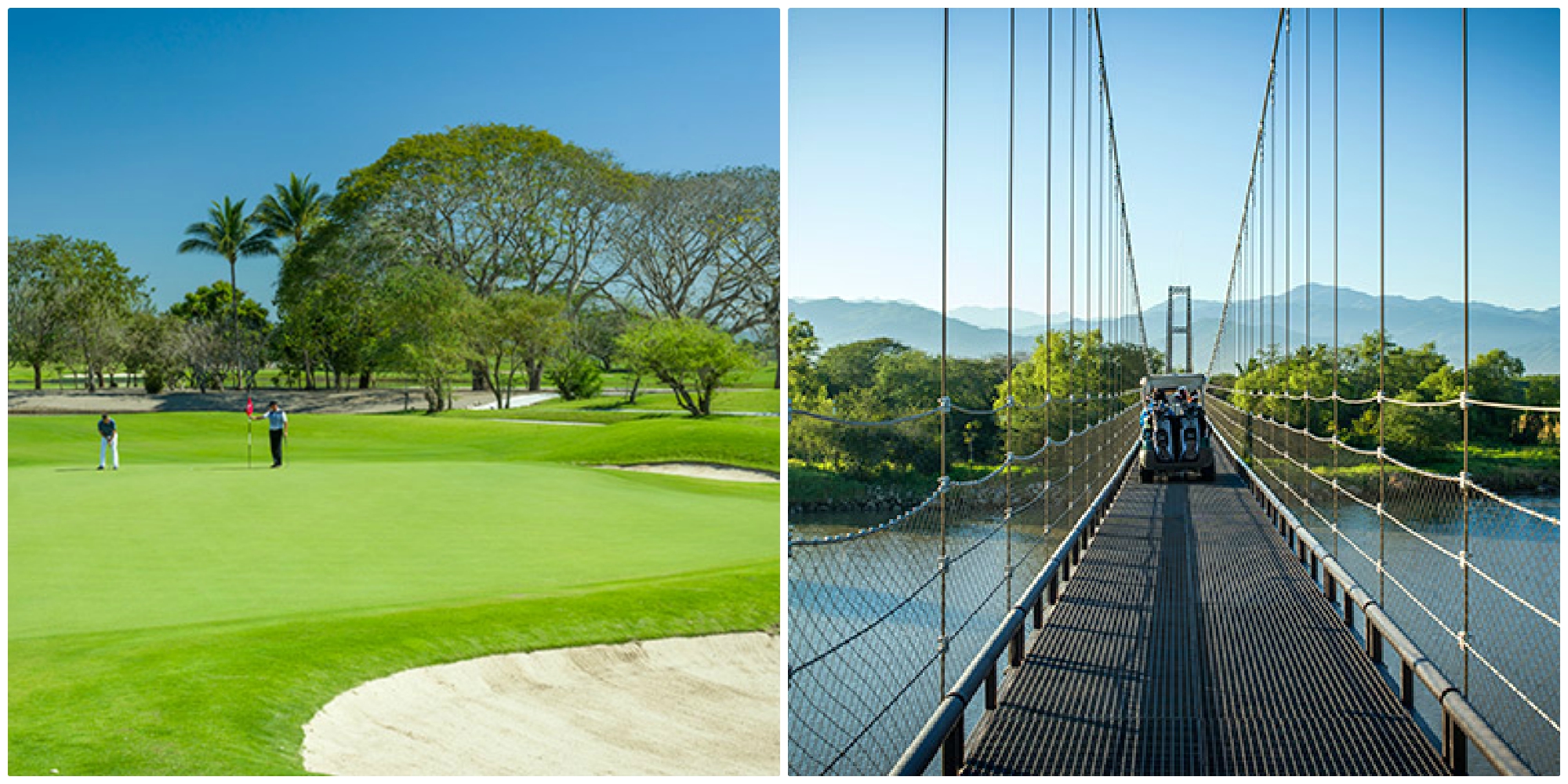 When you're ready to unwind, the concierge can set up any number of top-notch spa services at the Spatium spa.  Massage, manicure/pedicure, steam and sauna and hot tub, as well as a very well-equipped workout and exercise space.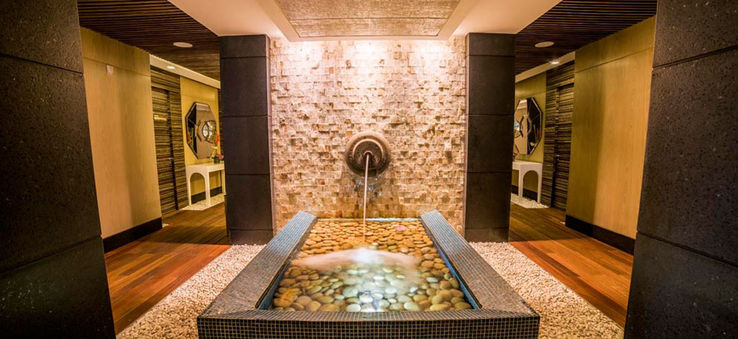 Vidanta provides free shuttle service to the resort from the airport.  Just contact them via email (on the registration form) with your flight information and number of guests, and a shuttle will be waiting to meet you at the airport.  (Return trip is not included!  You won't want to leave, either.)
In your Grand Luxxe Suite, maid service is provided twice daily – and yes, you get a chocolate on your pillow.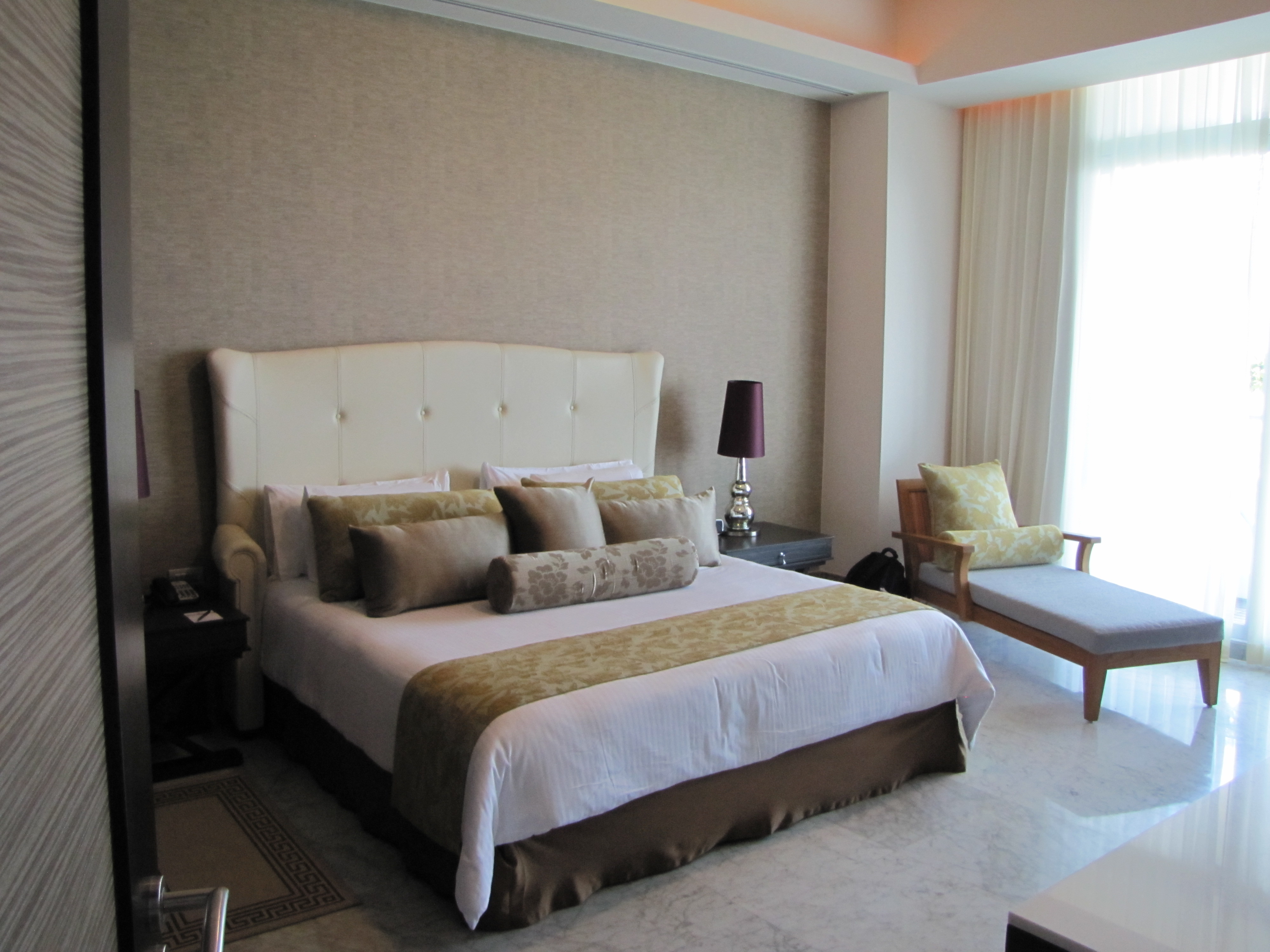 Because of our status as Founder's Level members, our guests also receive a plethora of platinum-level amenities, including:
Full access to every area of the resort.
Internet: Free internet access during your stay at the resort.
Butler Service: Want your pantry and fridge stocked before you arrive? Simply send us a list of things you would like in your room upon your arrival. (Some restrictions apply).
 Preferred Restaurant Reservations: Tell your concierge where you would like to eat and at what time, along with how many are in your party and the concierge will assure your dining selection. (Reservations must be made 24 hours in advance.) We use this one a lot!
Preferred Spa Services: Take advantage of the many massage and body treatments offered at BRIO or Spatium Spa and Fitness Center. (Reservations must be made 72 hours in advance).
Preferred Tee Times/Golf Reservations: Enjoy advance booking for your rounds of golf. Simply call the Pro Shop 72 hours in advance to book your tee times.  The phone number is provided on your registration form. Our friends use this to secure the best morning slots!
Preferred Check-in: Enjoy an exclusive check in experience, free of long lines and waiting time. This new service is solely for Platinum and Gold members.
Preferred View: This exclusive benefit ensures Platinum Members the most desirable views.  (Specific buildings, floors or views cannot be guaranteed, but you have the best chance of receiving what you want.)
Of course, once you arrive, you'll want to enjoy all the amenities of the huge Vidanta resort.  You'll have access to fine dining, in-room 24-hour room service, spa treatments, pools, bars, and entertainment – while leaving your wallet securely locked in the safe.  No cash exchanges on the resort – you and your guests are given individual accounts to charge any purchases to your room with a signature.  Better than an all-inclusive, with their sky-high daily mandatory fees.  At Vidanta, you eat and drink only when you want, and pay for only what you consume.  Have coffee and toast in the morning.  Get off the grounds and sample some local cuisine.  Order a pizza after that long day of swimming in the Bay. You won't feel guilty for skipping your all-inclusive food and drinks!
So – speaking of fees – how much for this exclusive, one-week stay?
RENTED.
Grand Luxxe One-Bedroom Suite
January 28, 2019 – February 4, 2020
Our price, just $1,750
(plus additional occupancy taxes and any voluntary gratuities.)

If you are interested in securing this high-season week for yourself, just click the button below and send us a message. See our Rental Agreement below for more details.  And feel free to peruse our website for many more photos of the resort and tips for traveling to Mexico.  But act now – this week is available on a first-come, first-served basis!
Looking for a different week?  Larger or smaller unit?  Different location? Cowboy Concierge has many other options available.  Click the button to send an email and tell us what you're looking for, and we will do our best to find availability. We look forward to serving you at Cowboy Concierge!