Cowboy Concierge Tour Berlin – May 2020
*This post may have affiliate links, which means I may receive commissions if you choose to purchase through links I provide (at no extra cost to you).
"Berlin combines the culture of New York, the traffic system of Tokyo, the nature of Seattle, and the historical treasures of, well, Berlin."
—Hiroshi Montomura,U.S. Law professor, 2004
Few cities can be considered truly cosmopolitan in comparison to Berlin.  It's the crossroads of a dozen worlds, all of which offer their fascinating take on life in this bustling, beautiful city.
We love Berlin.  And we want you to experience what we have seen – from the iconic sites of the Brandenburg Gate, the Reichstag and the Wall, to the lesser-known areas where Berliners just live and enjoy life.
I'm Don Herman, and with my partner of 22 years, Dwaine, we run Cowboy Concierge.  We specialize in arranging bookings for vacations, primarily in Mexico, but we travel extensively all over the world.
For almost 20 years, I was the Chief Financial Officer, then Chief of Operations for a suburban school district here in Denver, Colorado.  I believe this experience has served me well in organizing our travel over the years.  Dwaine knows, I can scour the web endlessly for the best places to stay, at the best price, with the best amenities and the best location.  No kickbacks here, just the same due diligence I delivered when trying to take care of 10,000 K-12 students.
Last year, I spent a month in Berlin taking part in a language intensive.  Though I'd visited Germany many times, I'd never stayed put this long in one place, and it was an amazing experience.  Along with my language studies, I studied everything about the city – it's history, it's many modes of transportation and how to use them, the character of the different neighborhoods and what you can expect to find there.  I visited as many museums and attractions as I could fit in, learning what there is to see, when it's not as crowded, and the best way to save money on entry fees.  And I want to share that with you.
Dwaine and I are planning a trip to Berlin in May of 2020.  We'd like to invite you to join us and allow us to show you everything we've learned about this exciting international city.
This is not a tour, per se, where you pay a price and we arrange everything from airfare to lodging and meals, though we can certainly help you with that.  Instead, think of it more as a guided facilitation. We lay out the itinerary for each day, along with ample free time to explore on your own.  We secure the tickets, provide transportation within the city, secure qualified guides for sites like Potsdam and the Olympic Stadium, and other incidentals.  And we organize special evenings at select restaurants or pubs to allow the group to share their experiences together – (but you pay for your own drinks or meal.)
We help you get your mind off the myriad details of what to see, when, and how to get there.  And you get to focus on drinking it all in.
Here's a sample itinerary for your consideration (subject to change).
Saturday/Sunday: Board your plane and travel to Berlin. Most common routes have one stop in either Frankfurt or Munich. We can help select an air itinerary that will meet your needs.
Arrive early Sunday morning and Uber or Taxi to your accommodations. If you prefer a hotel, we can secure your reservations, or if you would like to do as we do and stay in a VRBO apartment, we can also help narrow down locations to ensure we are all nearby.
That evening we can share a simple meal, as many places are closed on Sundays (labor laws)

Monday: Monday is a great day to simply tour the city via subway, bus and tram. We can show you how to work the subway system so that you can get out on your own. We can stop at various major stations so that you can view and photograph the landmarks, such as
Pariser Platz and the Brandenburg Gate (great for a coffee and croissant, too)
The Reichstag (full tour later)
The Holocaust Memorial
Stroll Unter den Linden and enjoy lunch
The East Side Gallery and Berlin Wall
Checkpoint Charlie
Kaiser-Wilhelm-Gedächtnis-Kirche
Kurfurstendam Shops
Ka-De-We Store for coffee and cake on the top floor
That evening we can have dinner at a fine German restaurant, Dicke Wirtin.
Tuesday: Museum Island (All admittance fees covered, as well as subway transportation). The most popular is the Pergamon Museum, housing many priceless (and stolen!) ancient Greek artifacts from Pergamon in modern-day Turkey. The Altes Museum houses many fascinating and ancient artifacts from Greece as well.  The Neues Museum is famous for its Egyptology collection, including the famous bust of Nefertiri.
We could head back to the River Spree for a river tour (included) past the city center, Bundestag (government buildings) and the impressive Reichstag.
After that, perhaps a stroll over to the Gendarmenmarkt, a lovely spot to sit and admire the architecture and drink a cold beer! There's always something happening there.
That afternoon you would have on your own to see the other sights around Museum Island. Checkpoint Charlie has a good museum on the various Wall crossings and escapes, though I would avoid the touristy photo booth area.  Or try the Hop-On-Hop-Off bus (included) for a spin around the entire city center.
That night, dinner together or on your own.
Wednesday: A day trip to two important sites (included) – the Olympic Stadium and history lesson in Hitler's Berlin, to Sanssouci (Without a Care) palace in Potsdam. A private van ride to Potsdam for a day touring and strolling the magnificent grounds of Sanssouci palace, the favorite home of Friedrich the Great. Most scholars agree that Friedrich was "family", and he certainly exhibited a gay flair for style with substance. The palaces are still furnished with original pieces, and the gardens are simply spectacular. May should be a great month to see the flowers in bloom!
After a long day in Potsdam, travel back to Berlin for a drink at one of the outdoor restaurants in Kurfurstendamm, just in time to hear the lovely bells of Kaiser-Wilhelm-Gedächtnis-Kirche.
Perhaps after such an upscale day visiting palaces, the dinner that night should be upscale as well, at Heising in Kurfurstendamm.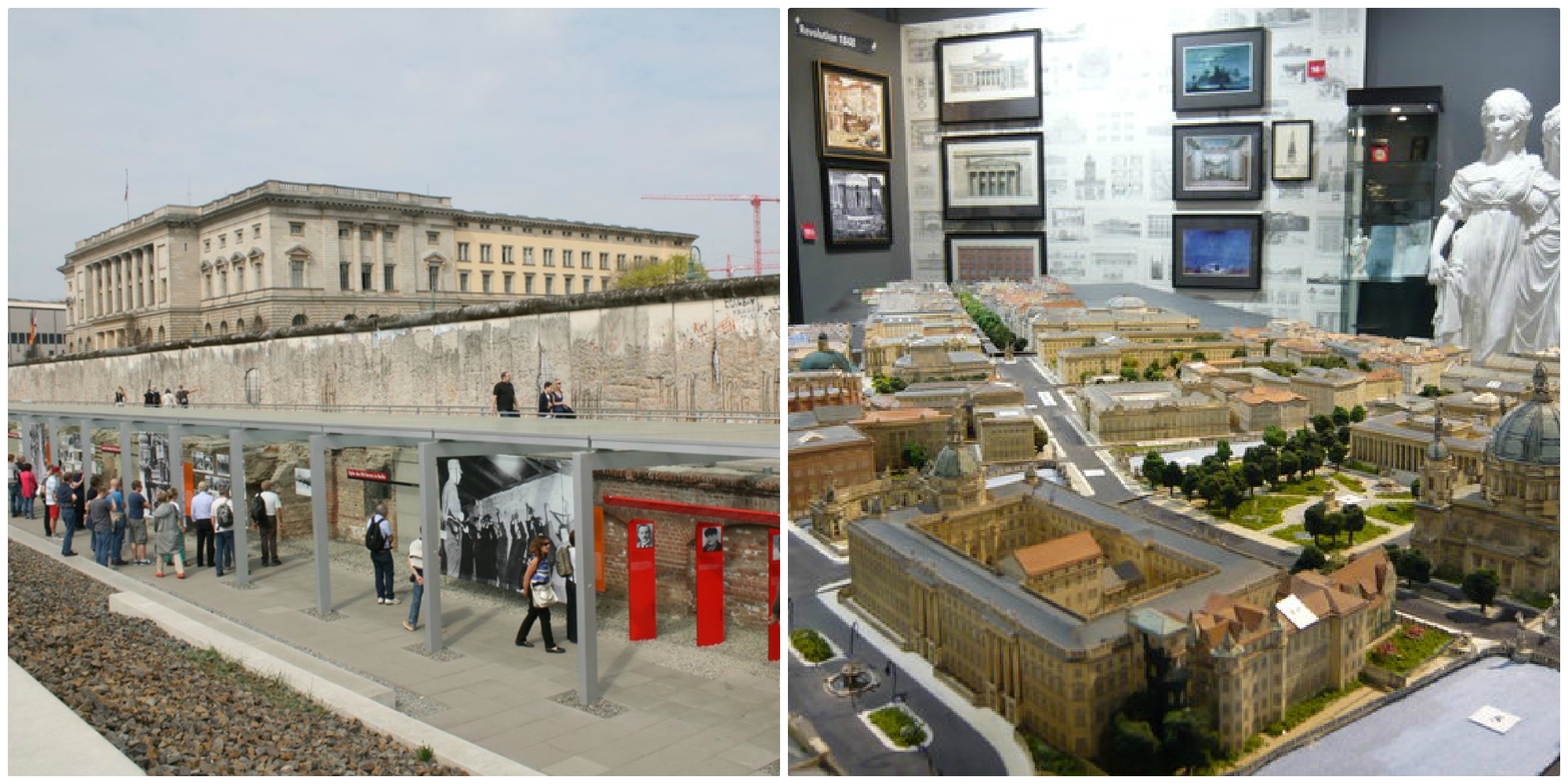 Thursday: Thors Day – A day to remember the Nazis. Start off with a visit the Topography of Terror museum (included). See a portion of the original Gestapo HQ and then step inside for an excellent audio tour of the history of Nazi Berlin. Follow this with lunch and conversation, then head to the Berlin Story Museum (included). This museum inhabits an old Nazi supply bunker, and tells the story of Berlin from earliest days, through WWI, WWII and the Berlin airlift days.
The rest of the afternoon and evening could be free to explore with your Berlin Pass.
Friday: The Reichstag. You have to get tickets in advance, but we can arrange that. The audio tour is excellent and the building's history is fascinating. From the new glass dome, you can get quite a nice view of Berlin, as well as great photos for people back home.
After the tour, a short subway ride to Alexanderplatz for a photo under the International Clock. This is the famous East Berlin square that held all the military parades of which they were so fond. Today it's a major gathering place for Berlin's young people, as well as the central hub for the subway.
From Alexanderplatz, rent some bikes and take a tour of the area.  A qualified tour guide will lead us through the Platz, as well as the Neptune fountain, Old Berlin, the Humboldt University and Book Burning Monument, Gendarmenmarkt and perhaps the Jewish Quarter, where you can still see bullet and shrapnel marks on the buildings surrounding the square.
Saturday: A free day to explore, now that you have familiarized yourself with the city layout.  Revisit some sites to investigate further.  Or take a bike ride through the beautiful Tiergarten.  Have breakfast at Ka-De-We and just watch people stroll by.  There's nothing like taking time to just live like a Berliner.



Sunday: Spend the day at the impressive Charlottenburg Palace.  The younger sister of the Hanoverian George I of Britain, Sophie Charlotte was Queen Consort to King Friedrich I.  Building this, the largest palace in Berlin, for her, Friedrich also gave her free reign over the grounds and activities.  Sophie Charlotte used this power to invite all manner of artists and philosophers to Berlin – whose influence is still felt today.
Free time that afternoon to explore other sites in Charlottenburg on your way back to your residence.
Monday: A final day to fill in the gaps and maneuver the city on your own.  We can help you plan your day.  But get out and explore on your own.
That night, a farewell dinner at Gaststätte Zur Kneipe.
Tuesday: Fly back home.
Sound interesting?  We are looking for up to ten people to share this experience with us in May of 2020.  Planning now will ensure we get lodging near one another, and we get our spots reserved for popular venues like Sanssouci and the Reichstag.
What we provide:
Meeting you at the airport and escorting you to your lodging, including a map of your neighborhood with useful locations marked (grocery, pharmacy, etc.)
Escort and entry to all museums and venues on the tour itinerary, including any available audio tour fees (a €300 value)
Transportation around the city during the itinerary (via subway, tram, bus or coach.)
Berlin-licensed tour guides for Potsdam, Olympiastadion, Sanssouci, and the bicycle tour. (a €300 value)
Reservations and fees for all sites that require reservations, such as the Reichstag and Charlottenburg.
Reservations and transportation for special events in the evenings.
Assistance as needed in securing lodging and air travel to Berlin.
Assistance as needed in visiting other sites not on the itinerary.
Because this is an inaugural event, I simply pass along any cost – no fees or markups.
To ask for more information or express interest, click the button below and send us a message.